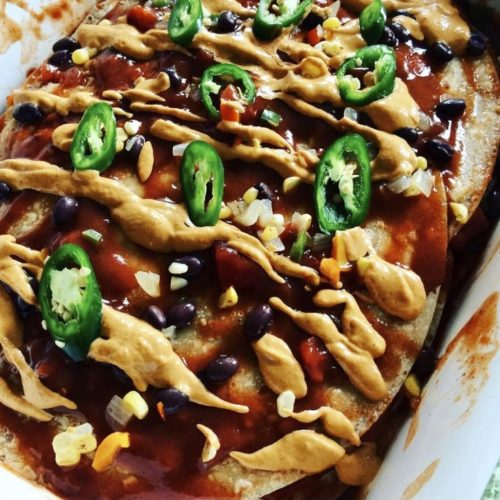 Tortilla Casserole
Ingredients
1

package

"Food For Life" Gluten free brown rice tortillas

1

small red bell pepper chopped

1

small onion chopped

1

cup thawed white/yellow corn (Birdseye brand frozen I like)

1

small can black beans rinsed

1

can large diced tomatoes

Dash baking soda (this eliminates acid)
Instructions
For corn, place thawed corn in hot non-stick pan or wok. It will start to "pop" and blacken. Remove from heat and place on dish to cool.

Place tomatoes in same pan, add dash baking soda and heat through. Remove and set aside. Clean same pan/wok out. Reheat pan, add pepper sand onions and sauté until slightly translucent, approximately 2 min. Combine tomatoes back in pot, corn and black beans.
Enchilada Sauce:
1 small can tomato sauce

1 1/2 T chili powder

1 tsp chipotle powder

1/4 tsp onion powder

1/4 tsp garlic powder

Salt to taste

Place all ingredients into a sauce pan and heat through. Setaside.
Nacho "Cheese"
1/2 cup Cashews soaked in water over night or 10-15 min boiling water

1/2 cup nutritional yeast

2 chipotle peppers in adobe sauce

Water or plant milk to thin (1/4-1/2 cup)

Salt to taste

Blend all ingredients in a small personal blender like Ninja or Bullet and set aside.
To Prepare the Casserole:
    

In a casserole dish, add approximately 1 1/4 cups enchilada sauce. Add two brown rice tortillas side by side, then add a layer of tomatoes, corn, black bean pepper and onion mixture. Drizzle "cheese sauce" approximately 1/3 of the amount. Repeat next two layers add sliced jalapeños on top and parsley to garnish. Add parchment paper to cover then a layer of foil.

Bake 30 min on 400 degrees. After 30 minutes is up, rotate and bake another 10 min. Then place oven on broil and remove foil and parchment. Broil 5 min. (Keep an eye on the broiler as all ovens are different).

Remove from heat and let's cool and settle about 10 minutes. Cut longways in half then cut side ways in half, then in half again.

ENJOY!!!