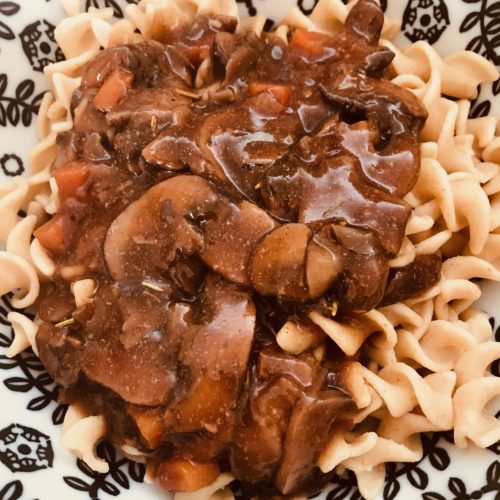 "BEEFY" Mushroom Bourguignon
Ingredients
2

lb.

mushrooms

(I mix white and crimini)

2

small

carrots

(cut length wise then sliced-half moons)

1

small

onion

1

shallot

4

cloves

garlic minced

2

cups

veg broth (oil free) or water

1/4

cup

tamari (gluten free soy sauce)

1/4

cup

nutritional yeast

1/2

small

can tomato paste

1

tbsp

thyme

1

tbsp

rosemary

1

bay leaf

1

cup

dry red wine

Parsley and chives to garnish

1

tbsp

corn or potato starch

S/P to taste
Instructions
Sauté mushrooms, onion, shallot and garlic (at the very end) in instant pot on sauté for about 5 minutes.

Add in tomato paste, rosemary, thyme, bay leaf and stir another 2 minutes.

Add your water (or broth), nutritional yeast and tamari (stir). Switch the button to manual 15 minutes, close lid and put the lever to sealing.

Once done let steam out manually.

Pour in your red wine and switch again to sauté.

Stir for about 3 minutes so alcohol escapes.

Note: the steam from this will be very hot. Make your "slurry" of corn starch (if it is not thick) and a few Tbsp of water, mix until dissolved and stir into your pot.

This will help thicken sauce nicely. If you want it thicker, repeat with one tsp of starch.

Adjust salt/pepper and other flavours.

Pour mixture over your favorite pasta or mashed potatoes.
I started out several years ago watching Forks Over Knives, decided to "try out" the plant-based meal plan and had shockingly incredible results. I've never turned back. I have lost nearly 50 pounds, and that is just one side effect that me, my family, friends and clients have experienced after making the change.
Having been an incredible cook my entire adult life, I started my own personal chef service, NuYu Nourish, to extend my help to others. I interned under a celebrity chef, became a celebrity chef myself and have been expanding my reach and goals ever since! My plan follows strictly and simply those of Dr. Mcdougall, Dr. T. Colin Campbell and Dr. Esselstyn.