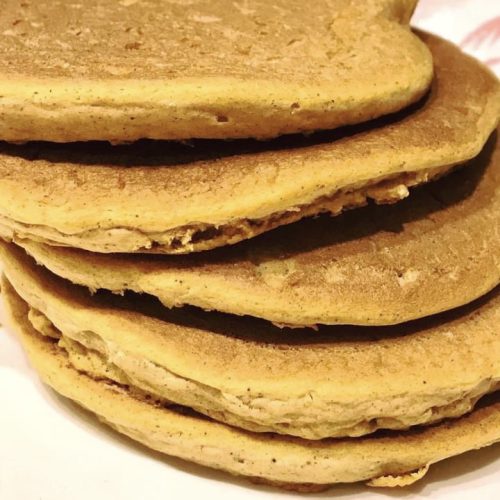 Pumpkin Spice Pancakes
This simple recipe requires minimal ingredients and anyone can make this.
Ingredients
1

Cup

flour (I use chickpea)

1

Cup

plant milk

3

Tablespoons

pumpkin puree

1

Tablespoon

maple syrup

1

Tablespoon

pumpkin spice

1/2

Teaspoon

vanilla extract

1

Tablespoon

baking powder

Pinch

salt
Instructions
Mix all wet ingredients in a bowl and whisk, set aside. Place all dry ingredients in a separate bowl (bar baking powder) and mix to combine. 

Fold both wet and dry ingredients together to make the batter. 

Let stand 5 minutes. Lastly, add the baking powder and gently whisk. This will give the pancakes "fluff". Heat non-stick pan or griddle to medium heat, place 1/4 cup of batter in, allow to bubble, flip using backside of spatula and cook for another 2-3 minutes. 

The interior will cook through as they cool but you can use the same principal as is done for muffins, check with a wooden toothpick. If it comes out "clean" they're done. If not, cook a bit more. All ovens differ especially from gas to electric.
Notes
All my best to you as you inspire your family and friends this holiday season! 🧡🎃🤎🍁🍂  
I started out several years ago watching Forks Over Knives, decided to "try out" the plant-based meal plan and had shockingly incredible results. I've never turned back. I have lost nearly 50 pounds, and that is just one side effect that me, my family, friends and clients have experienced after making the change.
Having been an incredible cook my entire adult life, I started my own personal chef service, NuYu Nourish, to extend my help to others. I interned under a celebrity chef, became a celebrity chef myself and have been expanding my reach and goals ever since! My plan follows strictly and simply those of Dr. Mcdougall, Dr. T. Colin Campbell and Dr. Esselstyn.