I created this recipe as one day I was craving stuffed cabbage. This is a Polish dish (and possible other regions of Eastern Europe). I grew up eating these stuffed "piggies", as we called them, with mashed potatoes and sometimes mustard or horseradish. Obviously I had to create this WITHOUT the pork, beef or veal Mother traditionally used.
Hence, we have lentils! I included a leaf of kale in the photo to remind us how this was once a garnish on many dishes in restaurants only to be discarded. I wanted to share with you that finely (or not finely) chopped up kale is wonderful in many soups. I enjoy it in my Dal recipe as well as my Lasagna Soup. It is a great way to get greens in.
Please enjoy this recipe and DO send any feedback.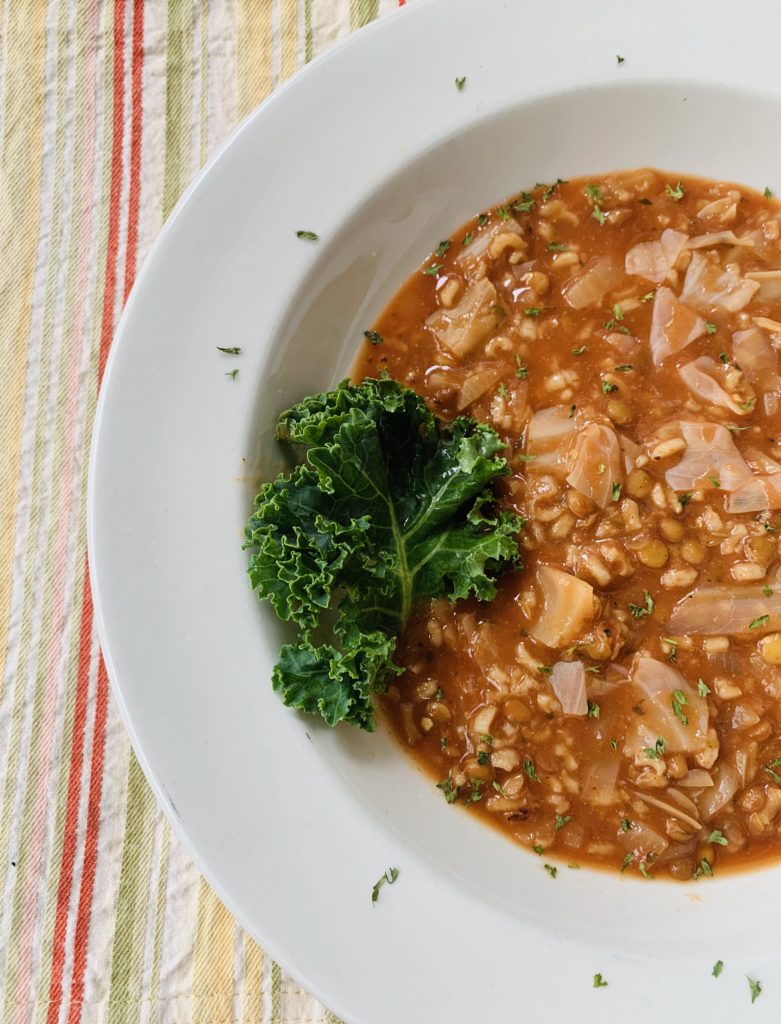 What you will need:
1/2 a medium cabbage chopped in large pieces
1 small white onion diced
4 cloves garlic minced
1 small shallot diced
1/2 cup rice rinsed
1/2 cup brown or green lentils rinsed
1 can tomato purée (large)
4 T Tamari sauce
6 cups water
1 T basil
1 T oregano
1/ 2 tsp thyme
Salt and pepper to taste at the END
Parsley to garnish or to add some green colour
Place instant pot on sauté and sauté the onion for about 2 minutes, then shallot was and lastly garlic for about 30 seconds each or until fragrant, keeping some cold water nearby so it doesn't stick and splash a tablespoon or so as you go. Add in water, tomatoes, herbs, tamari, rinsed rice and rinsed lentils. Give a good stir. Place lid and seal instant pot. Time for 7 minutes, carefully release steam, add salt to taste and and pepper adjust other flavours. If you want a more onion or garlic flavor at this stage use powder.