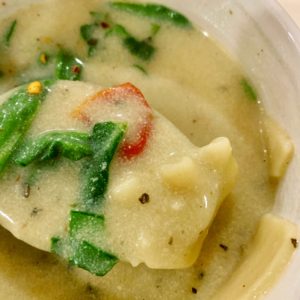 Lasagna Soup
Ingredients
6-8

gluten free lasagna noodles (Tinkyada brand)

8

cups

water

1

small

onion diced

4

cloves

garlic minced

1

can

white beans

1

cup

grape tomatoes sliced in half across

(I like the red, yellow and purple)

1

cup

fresh swiss chard cut into ribbons

1/2

cup

cashews soaked in boiling water 10 min and rinsed

1/3

cup

plant milk

1/3

cup

nutritional yeast

1

tbsp

Italian seasoning (basil, oregano, rosemary & marjoram combined)

1

tsp

poultry seasoning
Instructions
Slice tomatoes and place on baking sheet lined with parchment in a 450° oven for 15 min.

Meanwhile blend cashews with about 1/3 cup plant milk of choice and beans in a mini blender, set aside.

In stock pot sauté onion for 2 min, add garlic and sauté one more minute (adding water so not to stick by the tablespoon) and add seasonings.

Add the 8 cups water and bring to boil.

Add broken lasagna noodles and simmer for 10 min or until al dente.

Add cashew cream, roasted tomatoes, nutritional yeast, ribboned chard and s/p to taste and simmer another 10 minutes.

Chef's note: I sauté shitake mushrooms and add them at the very end or as a topping.

The reason is that any of the darker shrooms like shiitake or cremini will make the creamy broth darker and possibly less appealing. So don't cook these WITH the soup.
Notes
Chef's Note: If the broth is not thick enough make a "slurry" of corn or potato starch and cold water and add to soup until desired thickness. (1:2 ratio in tablespoons).
I started out several years ago watching Forks Over Knives, decided to "try out" the plant-based meal plan and had shockingly incredible results. I've never turned back. I have lost nearly 50 pounds, and that is just one side effect that me, my family, friends and clients have experienced after making the change.
Having been an incredible cook my entire adult life, I started my own personal chef service, NuYu Nourish, to extend my help to others. I interned under a celebrity chef, became a celebrity chef myself and have been expanding my reach and goals ever since! My plan follows strictly and simply those of Dr. Mcdougall, Dr. T. Colin Campbell and Dr. Esselstyn.