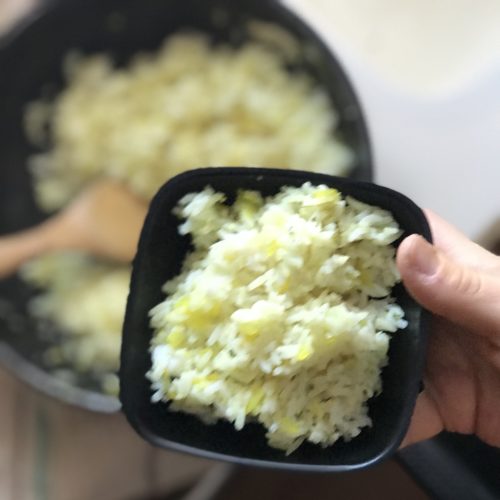 Instant Lemon Rice
Ingredients
4

cups

rice, rinsed (I prefer basmati)

(use cup that came with the instant pot or 3/4 cup 1:1 ratio water to rice)

3

cloves

garlic minced

1

small

onion diced

1

small

shallot minced

1

zest and the juice of one lemon

1/3

cup

nutritional yeast

pinch

turmeric

Salt and white pepper to taste

Fresh or dried parsley to garnish
Instructions
Put instant pot on sauté and sauté onion for about three minutes having some water nearby in case it begins to stick.

Add in the shallot and garlic and stir for one minute turning off the instant pot and using a few more splashes of water so not to burn the garlic. 

Add your pinch of turmeric and nutritional yeast and give a good stir along with half of the zest of lemon and half of the lemon juice. This will release some yum yums. 

Add your water and rice into the instant pot, give it all a stir, seal the lid and hit your rice button and knob to seal. (12 min)

Once done, carefully release the pressure manually and add the rest of the lemon zest and lemon juice and give it a good fluff with a fork.

Garnish with parsley or fresh chives.

Salt and white pepper to taste. 

For a complete meal, serve with some fresh steamed asparagus, peas or broccoli and sautéed mushrooms.

For stovetop, complete all cooking instructions in a non-stick or stainless steel pot.
I started out several years ago watching Forks Over Knives, decided to "try out" the plant-based meal plan and had shockingly incredible results. I've never turned back. I have lost nearly 50 pounds, and that is just one side effect that me, my family, friends and clients have experienced after making the change.
Having been an incredible cook my entire adult life, I started my own personal chef service, NuYu Nourish, to extend my help to others. I interned under a celebrity chef, became a celebrity chef myself and have been expanding my reach and goals ever since! My plan follows strictly and simply those of Dr. Mcdougall, Dr. T. Colin Campbell and Dr. Esselstyn.