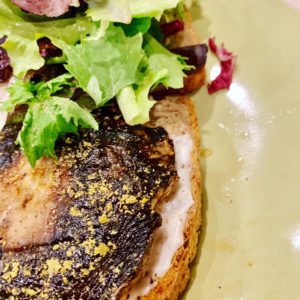 Marinated mushrooms
Enjoy on burger buns with your favorite toppings! This can also be used as a "meat" replacement dish with mashed potatoes and some veggies for a comforting weeknight dinner. Heat up the left over marinade and use as "gravy" for the potatoes.
Ingredients
4-6

Portobello mushrooms

wiped clean with damp paper towel

1

cup

Italian dressing of choice

oil-free of course

1/3

cup

Nutritional yeast
Instructions
Mix nutritional yeast and dressing well.

Marinate mushrooms in a large casserole dish with the dressing for 2 hours flipping half way through the time. 

Place on a hot grill and cook 3-5 minutes on each side depending on the grill. 
I started out several years ago watching Forks Over Knives, decided to "try out" the plant-based meal plan and had shockingly incredible results. I've never turned back. I have lost nearly 50 pounds, and that is just one side effect that me, my family, friends and clients have experienced after making the change.
Having been an incredible cook my entire adult life, I started my own personal chef service, NuYu Nourish, to extend my help to others. I interned under a celebrity chef, became a celebrity chef myself and have been expanding my reach and goals ever since! My plan follows strictly and simply those of Dr. Mcdougall, Dr. T. Colin Campbell and Dr. Esselstyn.