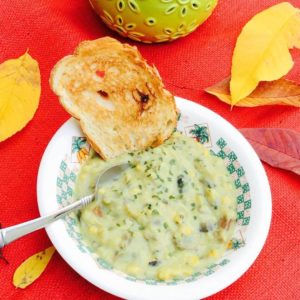 New England "DAMN!" Chowder
Ingredients
2

quarts

water or veg broth

(preferably oil free)

12

oz.

small white mushrooms sliced thin to replicate clams then light chop

1/2

cup

cashews

1

cup

boiling hot water

1/2

cup

nutritional yeast

1

med

Onion chopped

4

cloves

garlic minced

2

stalks

celery chopped

2

large

red potatoes diced (unpeeled)

2

russet potatoes peeled and diced

(these will disappear in the soup as they are a softer potato but will help thicken the soup)

1

cup

thawed corn

2

tbsp

parsley

1/2 to 1

sheet of seaweed cut into thin ribbons or dolce flakes to taste

(optional)

A dash or two of turmeric
Instructions
Start soaking cashews in boiling water.

Sautéed the mushroom, celery and onion until softened and add garlic and give a stir.

Add the two quarts water bring to a boil and add all potatoes, carefully

Lightly boil 10-15 minutes until red potatoes are soft but not falling apart.

Rinse and blend the cashew with about half cup or more fresh water and add to soup.

Add the nutritional yeast, corn, seaweed and simmer for another 5 minutes.

Salt and white pepper to taste.

**if the broth is not thickening add a 1/2 T of corn starch to about a 1/3 cup COLD water mix until dissolved and add to soup.
I started out several years ago watching Forks Over Knives, decided to "try out" the plant-based meal plan and had shockingly incredible results. I've never turned back. I have lost nearly 50 pounds, and that is just one side effect that me, my family, friends and clients have experienced after making the change.
Having been an incredible cook my entire adult life, I started my own personal chef service, NuYu Nourish, to extend my help to others. I interned under a celebrity chef, became a celebrity chef myself and have been expanding my reach and goals ever since! My plan follows strictly and simply those of Dr. Mcdougall, Dr. T. Colin Campbell and Dr. Esselstyn.