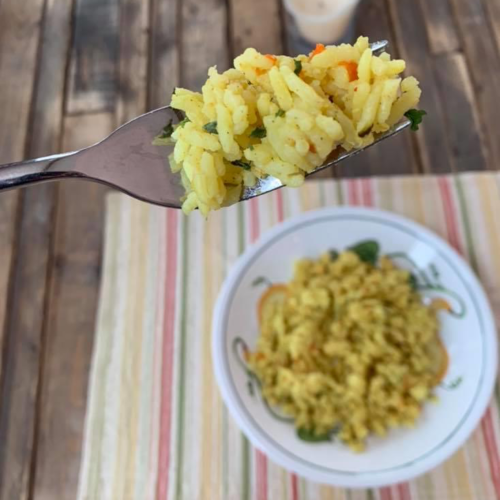 Rice Pilaf (Instant Pot)
Ingredients
4

cups

long grain or basmati rice, brown or white (use the cup that comes with the Instant Pot)

4

cups

water (same cup)

1

small

carrot shredded

1

half of small

zucchini shredded

1

small

onion diced

1

small

Shallot diced

3

tbsp

minced garlic

1/4

small

red bell pepper diced

1

tsp

poultry seasoning

1/3

cup

nutritional yeast

1

tbsp

salt

1/4

tsp

Turmeric

Dash pepper
Instructions
Place instant pot on sauté and sauté onion and shallot for 2 minutes (keeping a splash of water near by in case it starts to stick), add garlic and sauté 1 more minute, add rinsed rice, water, nutritional yeast, poultry seasoning, turmeric, salt and pepper, give a good stir and put the Instant Pot on "Rice" , secure lid and point the steam button to sealing.

Once time is up release the pressure and fluff rice with fork.

If not eating right away and this is say a "batch" cook, place the rice in a large casserole dish to cool in fridge.

Garnish with green onion, parsley or chives.
I started out several years ago watching Forks Over Knives, decided to "try out" the plant-based meal plan and had shockingly incredible results. I've never turned back. I have lost nearly 50 pounds, and that is just one side effect that me, my family, friends and clients have experienced after making the change.
Having been an incredible cook my entire adult life, I started my own personal chef service, NuYu Nourish, to extend my help to others. I interned under a celebrity chef, became a celebrity chef myself and have been expanding my reach and goals ever since! My plan follows strictly and simply those of Dr. Mcdougall, Dr. T. Colin Campbell and Dr. Esselstyn.