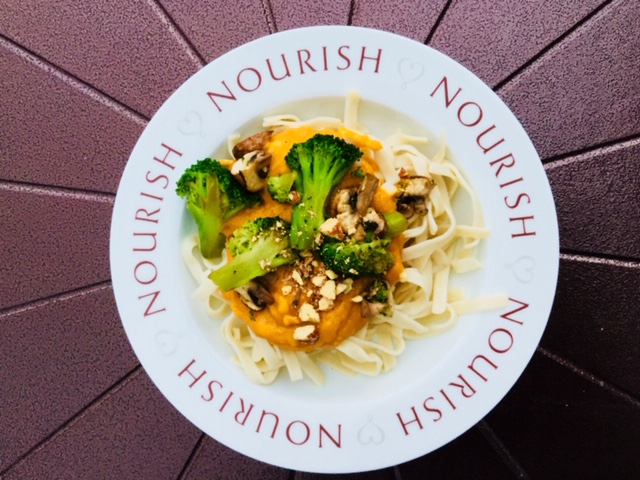 Smokey Butternut Squash Pasta Sauce
Ingredients
1

medium

Butternut squash

1

small

onion diced

1

shallot

diced

2

cloves

garlic minced

1/2

tsp

smoked paprika

1/4

cup

nutritional yeast

1/2-1

cup

Plant milk of choice

Salt/white pepper to taste

1

pound pasta of choice

cooked to package directions
Toppings
1

Zucchini cut into half moon shapes

1

Broccoli crown cut into bite size pieces

8

oz.

Cremini mushrooms quartered

1

small

package smoked almonds chopped or 1/4 cup for garnish and flavour (optional condiment)
Instructions
Preheat oven to 400°. Carefully, "tip and tail" your squash.

Cut the squash in half long ways, pull seeds and cut the two halves in half.

Put a few slices with a knife in each piece on the inside of the squash.

Place in a parchment paper lined pan, add the garlic, onion and shallot in the "holes" of the squash and sprinkle with smoked paprika.

Cover with a layer of parchment and then foil and bake for one hour.

Rotating the pan once half way through. May take a bit longer depending on the oven.

Meanwhile cook pasta as directed.

I use whole grain or gluten free large noodle such as spaghetti, bucatini or linguini. Pan roast your veggies in a non-stick pan or wok.

Start with the broccoli and add enough water to steam it.

Then let the steam go and turn up to med to high heat and let them sort of "char", remove and place on a plate to cool.

Next "roast" the zucchini about 3 minutes. Remove and place on same plate as broccoli.

Finally, and do can clean out your pan first, "roast" your mushrooms. They will give out some moistures as they cook. Let them get sort of brown before stirring about 2-3 min until moisture is out.

Set aside to cool. I don't mix veggies with the sauce as it's more of a topping and some like more veggies then others.

Pulse in mini blender or roughly chop almonds and set aside for garnish.

Once the squash is done let it cool so you can handle it.

Scoop out all the yum and place in food processor bowl or blender.

Add the nutritional yeast, s/p and plant milk (start with 1/2 cup) and blend until smooth. Use more milk if too thick.

Place a dollop on your warmed pasta then top with your warmed veggies and almonds.
I started out several years ago watching Forks Over Knives, decided to "try out" the plant-based meal plan and had shockingly incredible results. I've never turned back. I have lost nearly 50 pounds, and that is just one side effect that me, my family, friends and clients have experienced after making the change.
Having been an incredible cook my entire adult life, I started my own personal chef service, NuYu Nourish, to extend my help to others. I interned under a celebrity chef, became a celebrity chef myself and have been expanding my reach and goals ever since! My plan follows strictly and simply those of Dr. Mcdougall, Dr. T. Colin Campbell and Dr. Esselstyn.