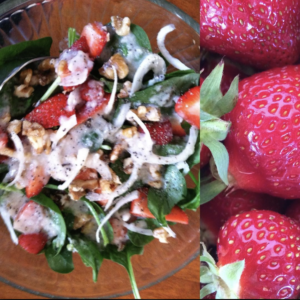 Spinach Salad with Low-fat Poppy Seed Dressing
Ingredients
For the Salad:
1-8

oz

package of fresh spinach

6

strawberries sliced

1/2

cup

raw walnuts

2

slices of red or sweet onion, cut in half

salt and pepper to taste
Dressing:
1/2

can

navy beans (rinsed and drained)

1

tbsp

poppy seeds

1/2

cup

water

1/2

cup

apple cider

1/2

shallot

1

tbsp

dijon mustard

2

large squirts of agave syrup

salt and pepper to taste
Instructions
Salad:
Place spinach, strawberry slices, onion and walnuts into a bowl and in that order.
Dressing:
Place all items in the blender and blend until smooth.

Check seasoning to see if more agave is needed (or less), for example.
Notes
Strawberries & the Spring
Strawberries are so plentiful in the Spring. But this is a good salad for Fall because walnuts are everywhere. I try to purchase strawberries from local people that raise them. The flavour is so much better. Or I bid on them at my favorite place ever…the PRODUCE AUCTION! But if you must, go to the grocery store.
I started out several years ago watching Forks Over Knives, decided to "try out" the plant-based meal plan and had shockingly incredible results. I've never turned back. I have lost nearly 50 pounds, and that is just one side effect that me, my family, friends and clients have experienced after making the change.
Having been an incredible cook my entire adult life, I started my own personal chef service, NuYu Nourish, to extend my help to others. I interned under a celebrity chef, became a celebrity chef myself and have been expanding my reach and goals ever since! My plan follows strictly and simply those of Dr. Mcdougall, Dr. T. Colin Campbell and Dr. Esselstyn.