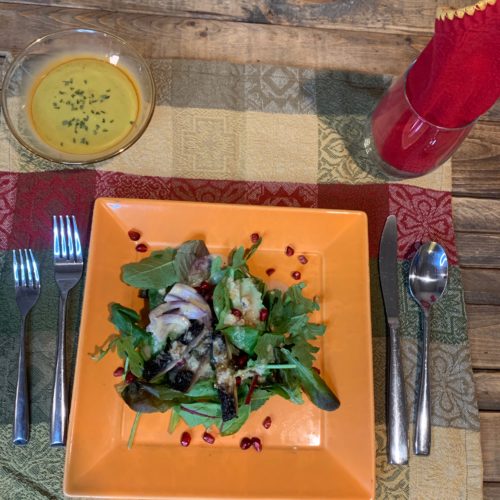 Thanksgiving Salad w/Marinated Mushroom
Ingredients
3

large

portobello mushrooms

1

tsp

dry sage

2

cloves

garlic minced

2

T

low sodium Tamari sauce

gluten free soy sauce

Fresh cracked pepper to taste
Salad
4-6

servings salad mix of choice

1/4

cup

pomegranate arils

1/4

red onion sliced lengthwise thin

1/3

cup

walnuts broken down by hand

1/2

apple cubed if desired

Slice mushrooms as above
Instructions
Mix sage garlic and tamari on a bowl and whisk. Set aside. Take stems off the portobellos and peel skin back (if desired).

Drizzle sauce over mushrooms and let sit room temp for about a half hour.

Note: Mushrooms will shrivel a bit but that's due to the salt in the tamari sauce. Turn on broiler, grill or stove top nonstick pan (med high heat).

Broil, pan "fry" etc. 3 min on each side. Let cool and add to the salad below. I felt the ingredients for this salad would best pair with this mushroom as a topping.
Salad
Assemble the salad with above ingredients and enjoy!
I started out several years ago watching Forks Over Knives, decided to "try out" the plant-based meal plan and had shockingly incredible results. I've never turned back. I have lost nearly 50 pounds, and that is just one side effect that me, my family, friends and clients have experienced after making the change.
Having been an incredible cook my entire adult life, I started my own personal chef service, NuYu Nourish, to extend my help to others. I interned under a celebrity chef, became a celebrity chef myself and have been expanding my reach and goals ever since! My plan follows strictly and simply those of Dr. Mcdougall, Dr. T. Colin Campbell and Dr. Esselstyn.