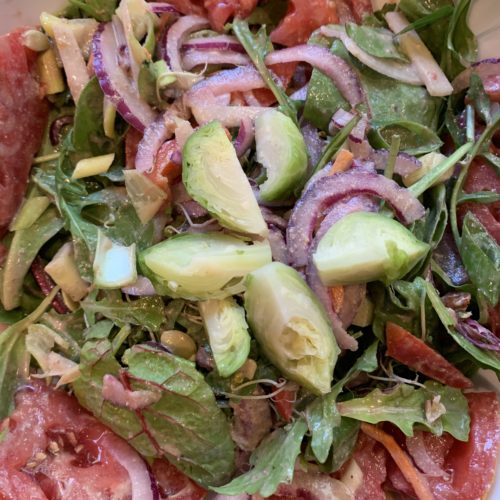 Balsamic Dressing
I created this dressing because I always enjoyed having the balsamic at restaurants starting around the early 1990s. As some of you may remember it was loaded with oil. Tasty, with Italian herbs and garlic and the wonderful bite of balsamic vinegar, but very, very oily. What I have created here is utterly oil-free.
Yes, that's right, no greasy feeling in your gut or your lips after eating a salad with this creation or drizzling it on some fresh grilled vegetables. I've been using this creation of mine for about the last eight years. It's made with beans so it's very low in fat, yet it's thick and creamy and extremely satisfying. I hope you enjoy it as much as my clients and I have.
Ingredients
1

cup

balsamic

1

cup

water

2

Tbsp

maple syrup

2-3

cloves garlic

2

tsp

oregano

1

tsp

basil

1

tsp

onion powder

1/2

can of chick peas drained/rinsed

(For Fat Free Version) OR

1/4

cup

tahini (sesame paste)

2

tsp

Dijon mustard

Salt and pepper to taste
Instructions
Place all ingredients into blender until smooth.

NOTE: a small, personal blender such as a Ninja or Bullet works best for dressings.

The dressing will last up to 10 days in the refrigerator.
I started out several years ago watching Forks Over Knives, decided to "try out" the plant-based meal plan and had shockingly incredible results. I've never turned back. I have lost nearly 50 pounds, and that is just one side effect that me, my family, friends and clients have experienced after making the change.
Having been an incredible cook my entire adult life, I started my own personal chef service, NuYu Nourish, to extend my help to others. I interned under a celebrity chef, became a celebrity chef myself and have been expanding my reach and goals ever since! My plan follows strictly and simply those of Dr. Mcdougall, Dr. T. Colin Campbell and Dr. Esselstyn.