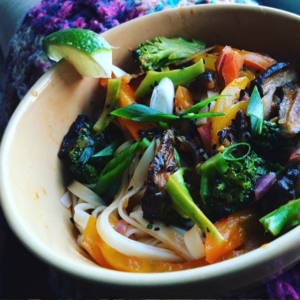 One Night In Bangkok Veg Thai Curry
Ingredients
1

can

light coconut milk

1

cup

water

4

tbsp

Soy sauce (Tamari)

1/4

cup

Sriracha (optional or to taste)

1

clove garlic

1

inch grated fresh ginger (1/2 tsp dry ground)

4

tbsp

Red Thai curry paste

1

lb.

Veggies of choice (broccoli, carrots, onion, peppers, mushrooms, etc)

1

lb.

Rice noodles (Asian)

Crushed reds, lime and scallions for garnish
Instructions
Mix first 7 ingredients into a bowl and set aside.

Meanwhile heat wok or nonstick pan and toss all veggies in and sauté for 5-7 minutes (add tablespoon of water as needed to handle any sticking).

Add sauce and stir to heated thru and a bit thick.

Add in cooked noodles and serve.

Note: For a less fat dish, I have started to use cashew (or low in fat plant milk) and fine grinding of about a Tablespoon of coconut flakes for flavour. If you can find a coconut extract that's natural and not full of a lot of things other than coconut, do comment and let me know what brand and where you found it.
I started out several years ago watching Forks Over Knives, decided to "try out" the plant-based meal plan and had shockingly incredible results. I've never turned back. I have lost nearly 50 pounds, and that is just one side effect that me, my family, friends and clients have experienced after making the change.
Having been an incredible cook my entire adult life, I started my own personal chef service, NuYu Nourish, to extend my help to others. I interned under a celebrity chef, became a celebrity chef myself and have been expanding my reach and goals ever since! My plan follows strictly and simply those of Dr. Mcdougall, Dr. T. Colin Campbell and Dr. Esselstyn.