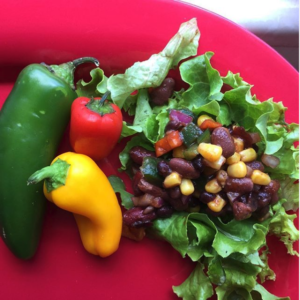 3 Bean Salad
Ingredients
3

cans

tri-beans

OR

1

can

each kidney, black and white, drained and rinsed

1

cup

corn (fresh or frozen)

1/2

red bell pepper chopped

1/2

red onion chopped

1

jalapeño (with seeds if desired) diced small

1/2

cup

fat free BBQ sauce

Dash (or more) Tabasco sauce
Instructions
Place all ingredients in the bowl and toss.

Let sit overnight in the fridge to allow flavors to hang out a bit.

Pause for a moment to enjoy the colors nature has bestowed on us.

Give it another mix and serve.

NOTE: This is an amazing snack or meal over some Boston or fresh-picked leaf lettuce!
I started out several years ago watching Forks Over Knives, decided to "try out" the plant-based meal plan and had shockingly incredible results. I've never turned back. I have lost nearly 50 pounds, and that is just one side effect that me, my family, friends and clients have experienced after making the change.
Having been an incredible cook my entire adult life, I started my own personal chef service, NuYu Nourish, to extend my help to others. I interned under a celebrity chef, became a celebrity chef myself and have been expanding my reach and goals ever since! My plan follows strictly and simply those of Dr. Mcdougall, Dr. T. Colin Campbell and Dr. Esselstyn.