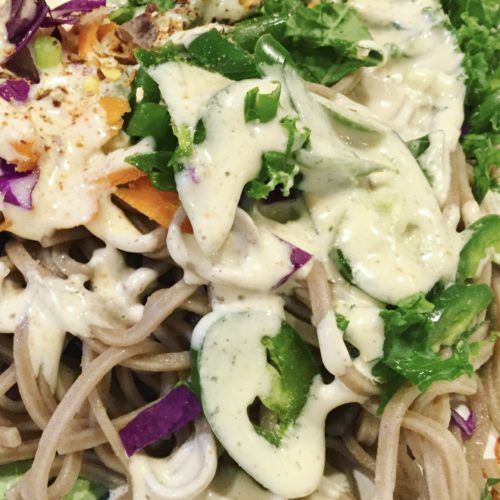 Wasabi Lime Sauce
Ingredients
3

tsp

Wasabi Powder

1

tbsp

Maple syrup or 1 date optional)

1

tbsp

Rice vinegar

1

Lime, juiced

1

tbsp

Tamari sauce (low sodium, gluten free "soy" sauce)

1/3

cup

Tahini (you can sub

OR

1/2

can

Garbanzo beans and just an "drizzle" of Tahini if you're extremely restricted and want low fat)

1/3

cup

Nutritional yeast

If not using Tamari or salt

Salt to taste

Water to thin
Instructions
Add wasabi powder to mini blender and a few tablespoons of hot water to sort of "activate" the wasabi. Let stand and cool for a few.

Add all other ingredients to the small blender and blend until smooth. Adjust flavours how you prefer. Lasts about 7 days.

Note: If not using tamari or salt use 1/3 cup nutritional yeast to make the sauce more rich in flavour and bring the "punch" of wasabi out.
I started out several years ago watching Forks Over Knives, decided to "try out" the plant-based meal plan and had shockingly incredible results. I've never turned back. I have lost nearly 50 pounds, and that is just one side effect that me, my family, friends and clients have experienced after making the change.
Having been an incredible cook my entire adult life, I started my own personal chef service, NuYu Nourish, to extend my help to others. I interned under a celebrity chef, became a celebrity chef myself and have been expanding my reach and goals ever since! My plan follows strictly and simply those of Dr. Mcdougall, Dr. T. Colin Campbell and Dr. Esselstyn.